Watch Grad Live!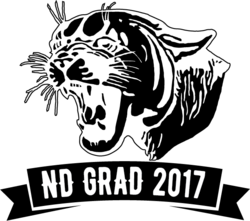 We are pleased to live stream the 2017 Graduation on Friday, June 30. 
Graduation Tickets on sale June 2-23rd
Tickets are $18 each.  As usual, graduates do not need a ticket, only guests do. Morning is free. If students have not participated in fundraising (selling poinsettias or spring flowers) or not paid their fundraising fee, $45 will be added to the cost of the tickets. No limit as to the number of tickets someone can buy. Students will need their ND student number to buy tickets.  After June 23rd all tickets will be $36 each. 
Click here for the link to purchase your tickets
Graduation and Scholarship Night
All Grade 12 students and parents be sure to join us in the gym on Tuesday, October 18 at 6:30 p.m. to learn important information about graduation and scholarships. 
Click here for important grad information.
Save the Date
The Class of 2017 will graduate on Friday, June 30, 2017. 
Graduation takes place in the ENMAX Centrium at Westerner Park
The morning ceremony begins at 10:00 a.m.  
This part of the day includes The Liturgy of the Word, Valedictorian Address, presentation of certificates and tossing of the caps. No tickets are needed. All are welcome. 
The evening ceremony begins at 7:00 p.m.  
This part of the celebration includes the Grand March, speeches and tributes, dessert reception, refreshments and a dance. Tickets are needed for this part of the evening.  
Tickets will be sold online beginning June 2 until June 22. Graduates do not need a ticket, guests need a ticket. There is not a limit as to the number of tickets available for purchase.